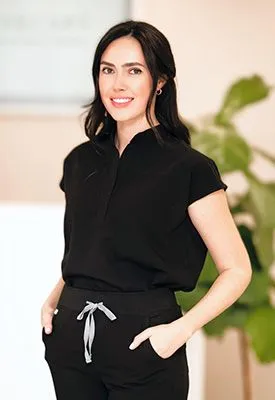 DR. INNA LAZAR
Dr. Inna Lazar is a leading expert on primary eye health and one of the country's most sought-after experts in the treatment of dry eye disease. She earned her Doctor of Optometry Degree from the Pennsylvania College of Optometry (Salus University) with a focus on advanced ocular surface disease and myopia management. Soon after, Dr. Lazar founded Greenwich Eye Care along with the Dry Eye Institute, a specialty practice that offers the most coveted, technologically-advanced drop-less treatments for dry eye.
Lazar was named one of "America's Best Eye Doctors'' by Newsweek in 2022 and featured in Fairfield County's Business Journal "40 Under 40 Best Doctors" in 2021. Lazar recently received an "Ambassador of Sight" award from the National Lions Team, a prestigious, international non-profit organization that aids people with eye care issues and eyeglass needs.
As a specialized eye care professional and KOL, Lazar uses her social platforms and the podcast (Transparent Show) she co-founded to educate her followers on unexpected, non-traditional eye health topics. She speaks openly about medical findings; the benefits and dangers of ingredients in many big-name brands; eye health as it relates to aesthetics in beauty, fashion, lifestyle, and much more. Dr. Lazar is a frequent public speaker, healthcare consultant, and advisor to major companies in the eye care industry. She can be found @dr.innalazar on Instagram and @eyeballdoc on TikTok.
---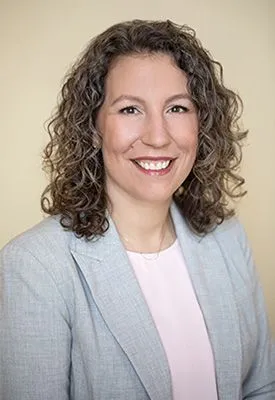 Dr. Sarah Lechanski
Dr. Sarah Lechanski embodies the values of trust, care, and family in both her personal and professional life. Building trust with her patients and treating them like family is of utmost importance to her. She takes the time to listen to each patient's unique needs and lifestyle, ensuring personalized treatment plans that deliver high-quality and efficient eye care.
With over a decade of experience, Dr. Lechanski is a seasoned optometrist specializing in total family eye care. Her expertise includes comprehensive eye examinations for individuals aged 4 and up, medical eye care, diagnosis and treatment of ocular diseases, emergency eye care (including infections and foreign bodies), contact lens fittings, LASIK consultations, and surgical co-management. Dr. Lechanski obtained her doctorate from The Pennsylvania College of Optometry at Salus University, and she graduated cum laude with a Bachelor of Science in Biology from Niagara University. Before joining Fairfield County, she served as an FDA clinical sub-investigator for presbyopia treatment.
She has also generously volunteered her time and expertise to provide eye care in Guatemala, always seeking ways to serve her community's eye care needs. Originally from Buffalo, NY, Dr. Lechanski is familiar with cold winters. She has lived in Tampa, FL, enjoying the palm trees, and experienced the Windy City of Chicago before finally planting roots in Connecticut with her husband and two children. In her leisure time, she indulges in reading, baking, and outdoor activities. Dr. Lechanski eagerly looks forward to welcoming her patients to her new location.
---
Dr. Danielle Polvanov
Dr. Danielle Polvanov is a highly dedicated optometrist, committed to providing high quality primary eye care tailored to each patient's unique needs. She graduated Magna Cum Laude with a Bachelor of Science in Biology from Adelphi University, and then earned her doctorate from SUNY College of Optometry. She completed her clinical training at several renowned ophthalmology practices in New York City.
Originally a New York optometrist, Dr. Polvanov is thrilled to have joined the esteemed team at Pro Eyecare and Greenwich Eye Care. Her passion lies in cultivating meaningful relationships with her patients, and she is wholeheartedly committed to treating each individual with the utmost respect, empathy, and compassion. Driven by her desire to provide comprehensive care, she practices full-scope optometry with a special interest in the treatment of dry eye disease. As an active member of the American Optometric Association, she stays updated with the latest advancements in eye care.
Outside of her professional endeavors, Dr. Polvanov indulges in various hobbies to maintain a balanced and fulfilled life. She enjoys reading, practicing yoga, and embarking on adventures with her husband.
---
Dr. Sasha Patel
Dr. Sasha Patel is a primary eye care provider devoted to delivering comprehensive and personalized care. She earned her Bachelor of Science in Biology from the Georgia Institute of Technology, where she was involved in glaucoma research. Subsequently, Dr. Patel obtained her Vision Science and Doctor of Optometry degrees from Nova Southeastern University, graduating with clinical honors. Her expertise and training were honed at several distinguished private ophthalmology practices as well as in multidisciplinary health care settings in Georgia and Florida.
As an optometrist, Dr. Patel cherishes the meaningful patient-doctor relationships she establishes, as they allow her to understand the specific needs of each patient. This helps her to prevent, preserve, optimize, and treat vision-related issues. Her clinical specialties lie in primary eye care and ocular disease, with a particular emphasis on dry eye disease, nutrition, and myopia management. In addition, Dr. Patel is a writer and editor of educational optometric resources. She is passionate about pairing quality care with staying at the cutting edge of ocular health advancements.
Outside the office, Dr. Patel enjoys making jewelry, acrylic painting, traveling, and spending quality time with her family. She feels honored to serve and be a part of the Fairfield County community.
---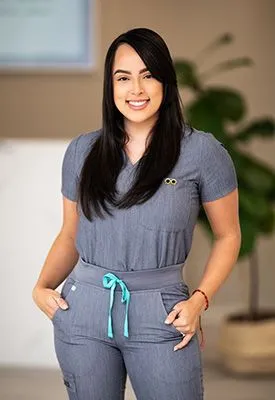 Luisanna Soto
Meet Luisanna, our dedicated Pro Eye Care Office Manager, born and nurtured in the heart of New York City, with roots tracing back to the vibrant Dominican Republic. Growing up, Luisanna was never afraid to explore new horizons, from gracing the stage as a ballerina to strumming melodies on her guitar, and even diving into the worlds of acting and modeling. She's a proud graduate of Westchester Community College, holding a degree in Accounting.
With a rich experience of over five years in the eye care sector, Luisanna takes immense pleasure in assisting patients, cherishing the opportunity to contribute positively to their vision and eye health. Traveling is Luisanna's way of enriching her life, meeting diverse cultures, and connecting with the world. She radiates joy when she's on the go, having set foot in 29 countries and over 60 cities globally.
Luisanna's spirit of adventure doesn't stop at her travels. She's an adrenaline junkie who revels in the thrill of roller coasters, has experienced the exhilaration of skydiving, and even ziplined from building to building. Despite her adventurous spirit, at heart, Luisanna is a family woman who treasures the time spent with her loved ones.
Get ready for an amazing eye care journey with Luisanna, our adventurous, family-oriented, globe-trotting
office manager
---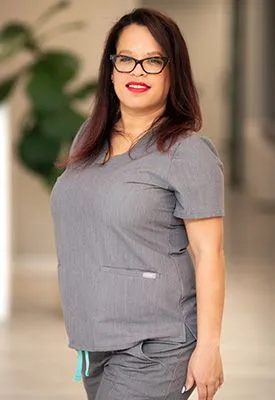 Damitrice Marrero
Meet Dami, our dedicated Greenwich Eye Care manager. Damitrice hails from Westchester County, New York, where she was born and raised. As a devoted New Yorker, her childhood memories are painted with the vibrant energy of Yankee games and the Knicks' thrilling performances. Athletics played a significant part in her early life, with her actively participating in high school volleyball and soccer while also finding joy in camping expeditions. In 2010, Damitrice proudly completed her Associate in International Business from SUNY Westchester.
However, by 2017, she felt a strong calling towards the healthcare sector and decided to pursue her aspiration of having a direct positive impact on people's lives. Beyond her professional commitments, Damitrice is a passionate aficionado of various forms of arts and culture. She enjoys indulging in cinematic experiences, diving into the world of books, and traveling to new destinations. A proud pet parent, she shares a special bond with her cat. Damitrice also showcases her vibrant spirit on the dance floor, having performed in Connecticut and New York.
When Damitrice isn't working or exploring the globe, she can often express her creativity and zest for life through dance. With her diverse experiences and passion for healthcare, she is an invaluable member of the Greenwich Eye Care team.
---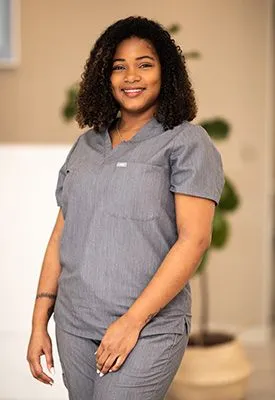 Elizabeth-Anne Etienne
Meet Lizzie, our dedicated Dry Eye Coordinator at Pro Eye Care. With a professional journey spanning over a decade as an ophthalmic/optometric technician, Lizzie brings a wealth of experience to our practice. Her career has taken her across various offices throughout Connecticut, allowing her to accumulate a rich understanding of diverse patient needs.
Lizzie's expertise extends to her tenure at the distinguished Emory University Hospital's Ophthalmic Department, where she specialized in Visual Field and Optical Coherence Tomography (OCT) testing. This advanced technical know-how positions her uniquely within our team, enhancing the quality of care we provide. Beyond her clinical competencies, Lizzie is a proactive ambassador for sickle cell disease through her involvement with the Sick Cells organization. Her personal dedication to this cause manifests in her compassionate approach to patient care.
As a mother of two daughters, Lizzie firmly believes in maintaining a work-life balance, a philosophy she translates into her professional life by treating each patient with the warmth and consideration she extends to her family. Her blend of professional expertise and personal commitment makes her an integral part of our Pro Eye Care family.
---
Thalia Grabar
Meet Thalia, our talented Scheduling Coordinator at Pro Eye Care. A Stamford, CT native, Thalia is a local resident who shares her home with her husband and their two cherished dogs. Thalia brings an impressive 15-year tenure in the customer service field to our practice, showcasing an ability to handle diverse client needs effectively. Her journey prior to joining us was rooted in the world of veterinary care, where she diligently served as a veterinary technician. This cross-disciplinary experience brings a unique perspective to her role within our team.
In her personal life, Thalia has an adventurous side, as seen in her enjoyment of roller derby. She is also an avid movie enthusiast and cherishes spending quality time with her family. Her life away from work underscores her commitment to a balanced lifestyle. With her blend of professional competence and personal warmth, Thalia is an invaluable asset to our Pro Eye Care team, contributing significantly to our ability to provide seamless service to our patients.
---
Erika Danielle Carlos
Meet Erika, our highly skilled Virtual Medical Assistant at Greenwich Eye Care and Pro Eye Care. Erika holds the distinction of being a Registered Pharmacist in the Philippines, a title she has held since 2019. Her professional experience includes roles as both a hospital and community pharmacist, equipping her with a broad spectrum of healthcare knowledge.
Erika's previous roles involved extensive collaboration with various healthcare practitioners, an experience that honed her confidence and efficiency in a multidisciplinary environment. These qualities make her an exceptional asset to our practice and greatly enhance the quality of care we provide to our patients.
Beyond her professional commitments, Erika is a passionate pianist, showcasing her artistic side through music. Additionally, she values spending quality time with her family, reflecting her strong belief in maintaining a healthy work-life balance. With her unique background in pharmacy and dedicated work ethic, Erika brings a valued perspective to our team.
---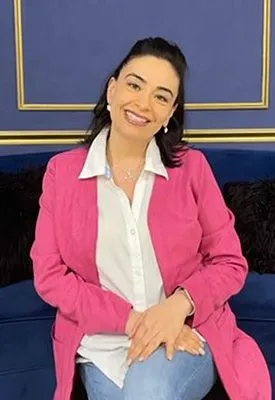 Azucena "Susy" Ademoski
Meet Azucena "Susy" Ademoski, a seasoned optician from New York with an impressive repertoire spanning over 25 years in the eyewear industry. Renowned for her focus on high-end, quality eyewear, Susy expertly marries fashion with function, showcasing her unique talent to every client she serves. After dedicating years to raising her two distinguished sons, Susy now immerses herself in a peaceful existence, showering her love and affection on her doting husband and their four cherished fur babies. Experience the intersection of style and utility with Susy Ademoski, where her passion meets your eyewear needs.